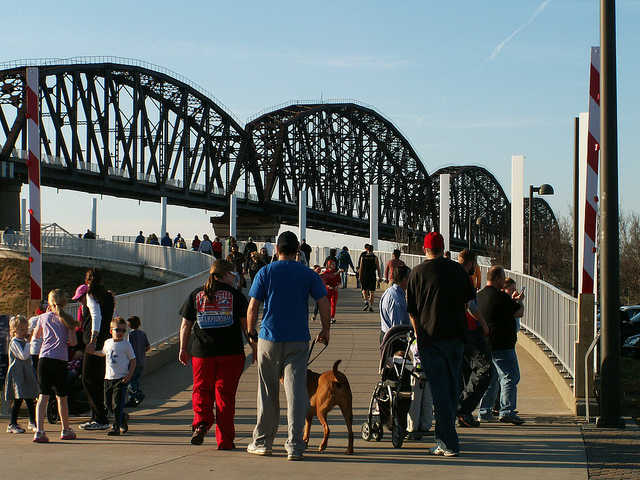 In Louisville, we love our history and are committed to recycling and refurbishing old buildings, landmarks, and structures. One such structure, the Big Four Bridge, was rescued from the obscurity and is on its way to being a vital part of Waterfront Park and among major Louisville attractions.
From Railroad Bridge To The Bridge To Nowhere
Originally built to connect Louisville and Indiana back in 1895 when Louisville was a major commerce center, the bridge was mainly used as a railroad bridge for the Cleveland, Cincinnati, Chicago, and St. Louis Railway, aka the "Big Four Railroad." Ultimately the railroad became part of the New York Central Railroad, which was swallowed up by Penn Central in 1968. The Bridge was closed down and the approach spans on both the Kentucky and Indiana side were dismantled and sold for scrap, while traffic was rerouted to 14th St.
It became the "Bridge That Goes Nowhere," and mainly worked on its rusty tan, as one blogger commented. In the 1980s, local radio station lit the remains up to cleverly promote a "Bridge the Gap" fundraiser for the needy. The president of Costa Rica tried to buy it for disassembly and reconstruction in his native land.
New Life For The Bridge
Finally, in the 1990s, the bridge was seen as a perfect pedestrian walkway and cycling path for Louisville Waterfront Park and the ongoing waterfront revitalization. Both Kentucky and Indiana applied for federal grants in solicited private money to fund repairing the structure, lighting it, and building ramps to access it. In February 2013, the Louisville entryway...