The almost-behind-us month of April is National New Homes Month. After a slump in permit issuance, the number of new homes being built in Louisville and around the country is way up. Elite Homes, Inc. a local builder, reports rising traffic in model homes that exceeds that at the top of the housing boom in 2006. Key Homes, LLC reports the same and expects a 40% increase in new home sales this year.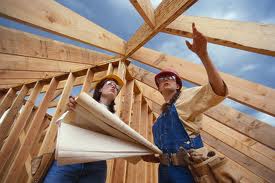 Why The Increase In Housing Starts?
An improving economy, low mortgage rates, pent-up demand for new housing, and a shortage of properties that the current crop of homebuyers want to purchase are all contribute to this increasing interest in new construction. For homebuyer, new construction offers a viable alternative to the declining inventory of what is currently on the market. As the National Association of Realtors said recently, the limited inventory of homes, particularly at certain price points, leaves many buyers scrambling to find what they want, hold back sales, and puts many properties in a bidding war.
In March 2003, there were nearly 4,000 homes on the market in Louisville. While that might sound like a sizable number, there is no guarantee that what was on the market matched the desires of an individual buyer for location, number of bedrooms, price, and amenities. While we won't run out of houses, the ones that first time buyers or first-time move-up buyers want are in short supply.
I've Seen The Inventory Shortages
In Louisville, I have seen the impact of decreasing inventory over the last year, as desirable homes I have listed one day have...